Airbus Problems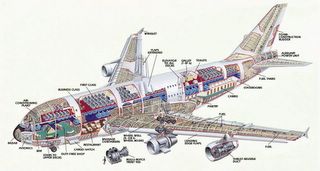 What if they made a humongous airplane, but then it couldn't land?

Some U.S. airport officials are saying that there is no demand for the A380 super jumbo jet, which can carry up to 555 passengers. Certainly nowhere near enough to justify extra runway widening and terminal upgrades to handle the double-decker plane. The FAA says that only JFK in New York, LAX, San Francisco and Miami are working with the FAA to plan changes for the new planes, while Anchorage and Memphis are interested in the cargo version.

Outside the U.S., only London's Heathrow, Paris's Charles de Gaulle, Sydney and Singapore are working on modifications.