Sean Who?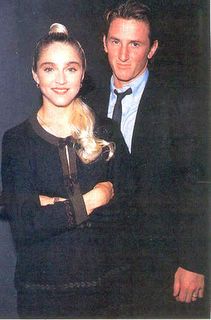 Sean Penn is now in Iran as a journalist to cover the elections for the San Francisco Chronicle. Past pronouncements from the Temper Tantrum Kid:
• "I hate journalists, or better, I hate paparazzi. Yeah, I punched them out and I'll do it again if it's necessary. I think a fist in their face is the only way to protect my private life. I demand my freedom, and I must have it."
• "If too many people like you, you're doing something wrong."
• Accepting his Independent Spirit Award: "You tolerate me, you really tolerate me."
• "I don't think you can get away with putting your talents in a toilet bowl and not having them flushed away forever. There is a level of murder of one's soul and of the culture that they're supposed to be feeding vitamins to…"
• "Simply put, if there is a war or continued sanctions against Iraq, the blood of Americans and Iraqis alike will be on our hands."
Yep: The guy who assaulted photographers is now working in the Fourth Estate.
Penn arrived in Tehran on Thursday and is expected to prepare an article on the election and Iran's controversial nuclear programs.
This guy is not in my Infamous Famous book, like Jane (shudder) Fonda; but he is obnoxious enough that I will donate a T-shirt for him to wear in the Middle East, when I get a chance.