Texas Girl With Cancer Taken From Parents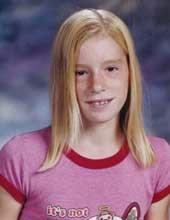 Katie

Child welfare officials seized a 12-year-old cancer patient from her parents near Corpus Christi, TX, claiming that the parents refused radiation treatment for her that doctors prescribed. The state removed not only Katie Wernecke but also her three brothers from their parents.
During a court hearing Wednesday, Michele and Edward Wernecke asked that doctors be barred from giving radiation therapy to their daughter Katie until a hearing next week to determine whether she will stay in state custody.
They say their daughter's cancer is in remission and they object to her getting the radiation treatment after undergoing a round of chemotherapy. Katie has Hodgkin's disease, a type of cancer involving the lymph nodes.
(On a personal note, my aunt died with Hodgkin's, but from over-radiation, not from the cancer.)
The family maintains a blog entitled
Pray for Katie
on which her parents claim she is being used in a research project: "Why are the doctors doing this? Katie appears to be part of a study where they allocate kids randomly to one treatment, say standard chemo plus radiation, and chemo only in the other treatment. Parents are not informed of this. They are doing research on our kids. Collecting research money from the drug companies, I guess."
Juvenile court Judge Carl Lewis said he would rule on the request Friday.
I thought that we had decided all of this in the Terry Schiavo case. Guess not.
Here we go again.